By Dan Haar On October 11, 2012 | The Haar Report | Hartford Courant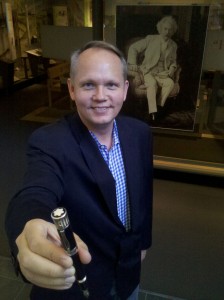 What would Mark Twain say about a commemorative fountain pen made in his honor, that cost $2,520?
That's easy — he'd mock the company that made it, and promptly buy a handful for friends, and use one himself.
He'd have to act quickly, because the real-life writing instrument — not a pen, a writing instrument — made two years ago in Twain's honor by Montblanc sold out quickly. All 12,000 of them, plus an even larger number of Twain commemorative ballpoint models that sold for $770.
On Wednesday, the North American CEO of Montblanc was at the Mark Twain House and Museum with the exquisite writing instrument in hand. It fit right into the world of luxury, and writing, that Twain built on what was then the outskirts of town.
Jan-Patrick Schmitz, whose office is in New Jersey, was preparing to lead the Mark My Words discussion with three authors at Simsbury High School, which Montblanc sponsors. He took a few minutes to talk about the pens — sorry, the writing instruments — and the luxury market in general.
"It's really a piece of art which happens to write," Schmitz said.
I expected to see an implement with a miniature bust of Twain, maybe a riverboat laid in on the shaft, made of mother of pearl. In fact, the Montblanc Mark Twain Writer's Edition pays a much more subtle homage, with an engraved fathom rope on the 18-carat white gold nib; wavy lines on the black body, representing river waves; ivory-colored wisps representing steam from a riverboat; a clip in the shape of a mouth harp; and Twain's signature etched on the cap.
"We are inspired by the works of the author but at the end of the day it's a piece of craftsmanship," Schmitz said. "When you spend two thousand, five hundred dollars, you really don't want to have a souvenir."
He uttered that last word with full, drawn-out derision in a German accent with the perfect diction of a man who earned a U.S. MBA with top honors.
And who are those buyers? There were plenty in the Hartford area, where Lux Bond & Green represents Montblanc, the world's dominant brand in the luxury writing instrument business. But since the end of the recession, Schmitz said, China has emerged as the company's No. 1 market.
"China is by far the most important luxury market," he said, noting that the 55 million Chinese who travel overseas spend an average of $500 an hour while they're shopping on vacation.
Montblanc, whose products are made in Hamburg, Germany, where the firm was founded in 1906, is part of a holding company, Geneva-based Richemont, owner of such top-shelf brands as Cartier, Chloe, Van Cleef & Arpels and Alfred Dunhill.
The luxury industry had more than a scare in the depths of the 2008-08 recession, when, as Schmitz recalls, journalists were writing about the end of luxury, forever — and not on Montblanc pens, I might add.
"All nonsense," he said. "We knew it at the time."
Luxury consumer goods recovered well, with record-setting years that continue, as wealthy people remain wealthy. But the landscape changed, beyond the move to China. The recession was the first time in the company's history that customers asked for their goods in non-branded bags, on 5th Avenue in New York — and Montblanc obliged.
And luxury goods are not spread as widely across the population as they were just a few years ago. Today there are 250 locations in North America selling Montblanc, down from 1,700 in 2003, Schmitz said.
Montblanc honors a different writer every year, including Jonathan Swift this year. With instruments as costly as $750,000 (a jewel-laden 2006 edition of three) Montblancs can gain in value on the secondary market — but online, Schmitz warns, "you might not get the real thing."