By RICHARD MULLINS | The Tampa Tribune
Published: September 16, 2012
Updated: September 16, 2012 - 5:48 PM

TAMPA --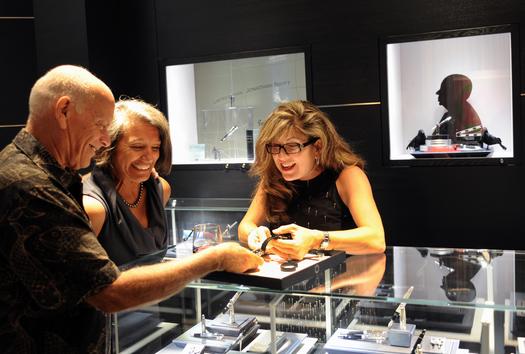 Clients at the new Montblanc Boutique in Tampa
W
alk into the newly expanded Montblanc store in Tampa, past the glimmering display cases, past the sparkling cabinets full of jewelry, and there's a door in the back wall. Through that door is a small, very private room meant for only the most select customers.
At the back of that room is a display case protected by thick glass and alarms. In that case is a pen – just one of 50 in the world – designed to commemorate U.S. President Andrew Jackson. Price: $33,000.
Ask to see other exclusive items, and Montblanc staff will take out glimmering women's necklaces costing $63,000. Show enough promise as a customer, and they'll ship in dozens of exotic mechanical wristwatches, some costing nearly $300,000.
"Montblanc is a very classic look," said Francisco Gregorio, who was shopping for a watch for his father at the store, and picked a "Star Classique Automatic" in gold. Sticker price: $3,340. "I didn't even know this shop was here, but I've been shopping for a watch for two months, and this looks perfect."
Mainly known for selling iconic black fountain pens, Montblanc is looking at a much wider horizon for its future, and many of the company's new items come with prices well above what many people pay for a car.
"For a long time, our products were predominately sold in stationery stores," said Jan Patrick Schmitz, chief executive of Montblanc's North American division. "We've grown bigger than that now."
It's been a long metamorphosis for Montblanc.
The Hamburg-based company began in 1924 making luxury fountain pens, and now thoroughly dominates that market. This put the company in the somewhat odd position of needing to look elsewhere for growth.
Montblanc's parent company, the Richemont Group, already owns ultraluxury brands Cartier, Van Cleef & Arpels, Chloe, Baume et Mercier, Piaget and the watch-maker IWC. So, to expand Montblanc, the company grew Montblanc's profile in jewelry, leather goods, and invested heavily into watch-making.
Instead of buying generic watches and putting their logo on the front, Montblanc learned to hand-make watches, and built a watch-making laboratory inside a renovated villa in the European Alps.
Some watches require weeks to assemble from parts custom-made elsewhere. Other watches they make from scratch with more than 600 moving parts, Schmitz said, and take a year or more to fine tune. This creates a lineup starting at $3,000, topping out at the $297,000 "Metamorphoses" watch, whose whole face splits open and transforms from a traditional watch into a chronograph. Montblanc will make just more than 20 of those.
PENS
Much of Montblanc's business remains in selling its signature black pens. Starting at about $600, they are commonly purchased as graduation gifts, or used to close business deals.
To move beyond that base, Montblanc expanded into ultraluxury pen lines, with limited series designed and named for extraordinary characters like the first patron of the arts, the Roman Gaius Maecenas, and the composer Johannes Brahms.
The deep blue Mark Twain pen with subtle wave-patterns on the shaft costs $980. The crimson red Joseph II pen honors the Roman-German emperor who supported a vast network of artists, including Mozart.
One of a few common traits to all those characters: They're all dead, and that's no accident, Schmitz said.
Celebrities may come and go with a reality show or hit movie, but iconic characters match Montblanc's traits of "classic timelessness," Schmitz said. There's little risk the allure will fade from Princess Grace.
Despite the well-known eccentricities of Andrew Jackson (he's credited with winning or surviving scores of pistol duels, among other exploits) Schmitz said the pen "celebrates a U.S. president who stood for defending freedom." Customers of such a pen aren't just looking for something to write with, he said, but rather to collect them as functional pieces of art.
STORES
That kind of product isn't easily sold online, so Montblanc has expanded many U.S. stores, and parked them next to other ultraluxury brands like Henri Bendel, Louis Vuitton and Tiffany & Co.
"What they're really looking to do with a bigger store is provide a presence for the brand and those experiential benefits," said Stephen Wyss a retail specialist with the accounting and consulting firm BDO. "It's not so much about generating sales per square foot, as generating your brand image."
Customers considering a $10,000 watch want to hold it in their hands, even if they ultimately buy one online.
The other tough part of marketing such luxury items is the price. Ultraluxury brands may earn a margin of 40 percent or more on a bag or watch, but in a down economy, they simply can't slash prices.
As Schmitz of Montblanc put it "many brands have destroyed some customer loyalty by cutting prices … when they lowered their prices tremendously, and the customer sees something they bought in 2007 now discounted by 50 percent, they can rightfully ask 'Are you now telling me the true value of the product is half what I paid?'"
WEALTHY
Now, those affluent customers are shopping again. Their wealth isn't based on a paycheck, but on where the stock market stands, said Nikoleta Panteva, an analyst with the research firm IBISWorld, and the Standard & Poor's 500 index has grown by double digits since 2010.
"The luxury market rebounded much quicker than the general economy," she said. "So brands like Tiffany, Louis Vuitton and others have generally done quite well," she said. It's not that the wealthy stopped buying because they really lost money in the downturn, she said, it's that they were too nervous to spend. Now that they market is back up, luxury spending has recovered and stabilized.
As Schmitz of Montblanc put it, before the recession, there were a lot of people unconsciously spending, then they became cautious spenders, "and now we think they're moving into conscious spending. If they're going to spend thousands of dollars on a watch, they want it to keep that value. For us, that's a positive development."