By Anthony DeMarco – October 3, 2012
Source: Forbes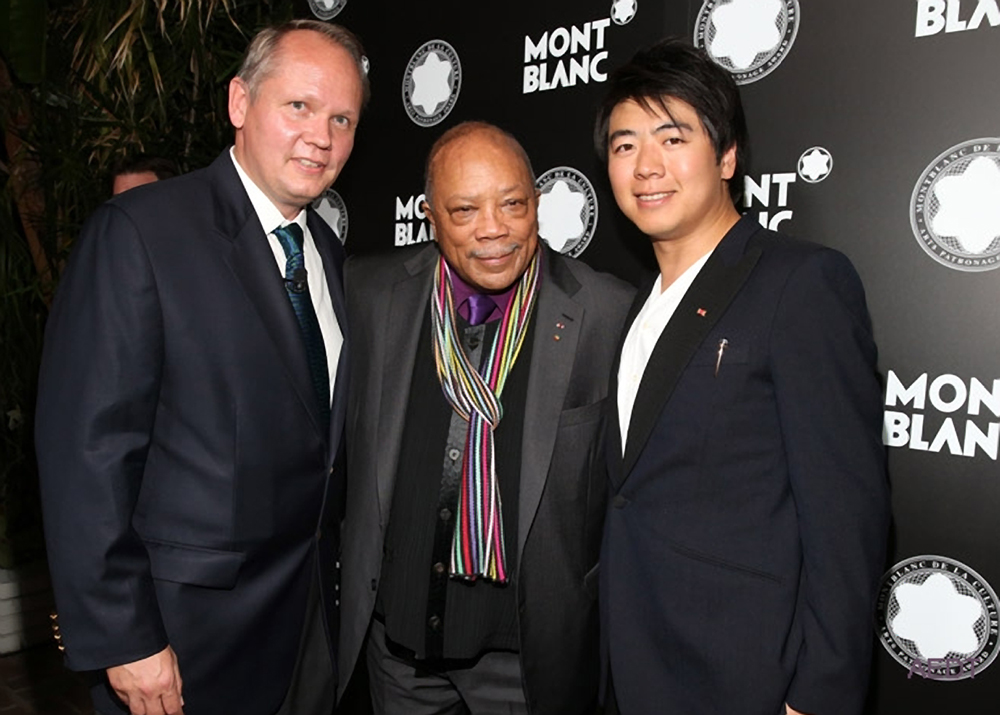 WEST HOLLYWOOD, Calif. — When Quincy Jones was a child growing up in Chicago and Seattle, he wanted to be a gangster. Instead, he settled for being one of the most influential and accomplished persons in the arts entertainment industry.
Jones—the famed record producer, conductor, arranger, film composer, television producer and trumpeter—was honored Tuesday, not for his five decades of spectacular accomplishments, but for his commitment to develop the talent of young musicians as well as preserving and maintaining the heritage of African-American music. This includes working with or contributing to The National Black Arts Festival, the Quincy Jones Listen Up Foundation and the Jazz Foundation of America.
The 79-year-old legend received the Montblanc de la Culture Arts Patronage Award during an outside reception at the garden of Chateau Marmont on a clear, crisp night with some of Hollywood's best-known names, including Sir Sidney Poitier, Morgan Freeman, Terri Hatcher, Billy Zane and Jones' daughter Rashida Jones. The luxury brand based in Hamburg has a long history of supporting arts and culture throughout the world.
Jones received a $20,000 award, which he will donate to the Jazz Foundation of America and a special edition Montblanc Patron of the Art Limited Edition 2012 Joseph II writing instrument. Joseph II, Holy roman Emperor from 1765 to 1790, created scholarships for talented poor students and was also a great supporter of Wolfgang Mozart.
Jones, a Chicago native, after accepting the award, told the story of how his father worked as a carpenter for the "Jones Gang," a notorious African-American gangster organization that was eventually taken down by Al Capone. The young Jones and his family found themselves on a Trailways bus headed for Seattle. He wanted to emulate the gang members he saw all the time. At the age of 11, the "baby gangster" and his "gang" broke into an armory building in Seattle that served as a recreation center where they ate the ice cream and lemon meringue pie. Then they started raiding the offices inside the building. It became a life-altering moment.
"We ate it all up (the ice cream and pie), had a pie fight and individually broke into all of these offices," he said. "I break into one office which was a supervisor's office and I see a Spinner piano. Eleven years old and I still wanted to be a baby gangster. I see that spinner and I almost closed the door and something said 'turn around idiot and go into that room.' I walked over to that piano and the voice said 'this is what you will do the rest of your life.'"
He spoke about facing and overcoming hardships. For example, the difficulty he had to become the first African-American film composer, which he thanked Poitier for helping to make possible, and the difficulties and rewards of taking "The Road Less Traveled."
"Life is a struggle. It is and it's suppose to be," he said. "God gave us that struggle and we have the choice to make the negative parts of our life a problem in which we sit and worry about and get emotional about. Or a puzzle you can solve. Always try to make it into a puzzle that is solvable. It's not something you give up on."
On his early years as a jazz musician and composer, he said: "We didn't care anything about money. We didn't care about fame or none of that stuff. We just wanted to try and revolutionize music."
Jones' longtime friends, Poitier and Freeman, both as well known for their eloquent speaking voices as for their accomplished acting careers, spoke on his behalf.
"When a remarkable honor is paid a friend I am gratified," Poitier said. "But not nearly so much as in now when the friend is here, with us, in the healthy glow of his middle years to receive it, taste of it and walk away onto other challenges leaving behind this unique reminder of victories won, risks taken, choices made…. My friend. I am sure you will go on to even greater things yet."
Freeman then took the stage. "When I was thinking about tonight I was trying to think of the exact moment I met (Jones) but I couldn't. It seems like he has always been a part of my life. That's because when you meet someone you admire so much. When you spend time with someone who has accomplished and is accomplishing so much. When you are a friends of someone whose talent is as big as his heart, the connection is timeless."
Freeman also paid Montblanc a note of recognition: "Normally I would write a few notes about what I wanted to say on my iPad. But in honor of this event I wrote them down using my Montblanc pen."
Rasheeda Jones provided her unique insight when introducing him for the award.
"My father is the perfect recipient of Montblanc's culture arts patronage award, not just because of his unbelievable contribution to the arts and his commitment to supporting young artists, but it's because he lives his life so artfully. He wakes up every morning with inspiration and curiosity. He writes his own daily symphony of travel and career endeavors, and friendship and laughter and humanitarian efforts. He relentlessly fine tunes his craft by continuing to learn from others he admires. By staying present. He could easily rest on his laurels and collect awards but he doesn't. He strives to know more, see more, say more and do more everyday. That to me is a true nature of an artist."
This award is given each year to individuals in 12 countries who have a long history of giving their time and their talents to supporting the arts and art projects. Jan-Patrick Schmitz, Montblanc North America CEO and president, stressed in an interview earlier in the day that the award is for people who have made a difference in the lives of others through arts and culture.
"Quincy Jones is a living legend but that is not why he is receiving the award. What he is recognized for tonight is his patronage for the arts," he said. "He has been very supportive of the arts, in particular, trying to help children break the cycle of poverty through creativity, education for music and academic achievement."
World-renowned classical pianist Lang Lang, chairman of the Montblanc Cultural Foundation, was in attendance and performed a special piece for Jones by Franz Liszt titled, "Dedication."